Lao PDR
January 20, 2021
Views: 724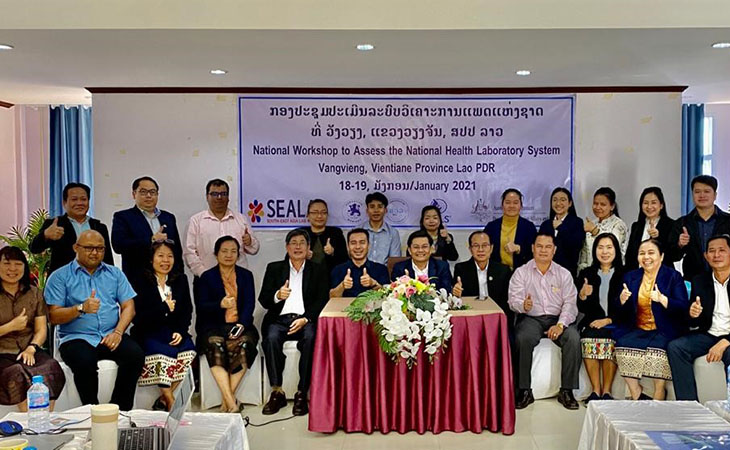 The Integrated Quality Laboratory Services (IQLS) assessed the Laboratory System in Lao PDR on 18 and 19 January 2021. This event brought together national key laboratory stakeholders under the leadership of the Center for Laboratory and Epidemiology (NCLE).
Other participating stakeholders were from the National TB Centre (NTC), the Centre d'Infectiologie Christophe Mérieux of Laos (CILM), the Institut Pasteur du Laos (IPL), the Lao-Oxford-Mahosot Hospital-Wellcome Trust Research Unit (LOMWRU), the Heads of laboratory of major hospitals in Vientiane, the University of Health and Sciences (UHS), the WHO, the DTRA and the USCDC.
In the context of COVID crisis, Dr. Arsen Zakaryan, lab expert at IQLS participated virtually throughout the workshop to optimize the quality of the assessment outputs while Dr Douangchanh Xaymounvong, Head of SEALAB project in Lao PDR , took on brilliantly the role of facilitator.
The assessment use a Laboratory system assessment tool (S-LAT) that is a simple and standardized way to assess the organization of the laboratories at the national scale, the global management of the quality control, the standardization of testing techniques and the flow and sharing of data. This tool also allows pointing out eventual overlaps or gaps and needs to be addressed
The assessment is split in several modules to decipher laboratory governance, laboratory organization and structure, laboratory system and public health function, laboratory Quality Management System, human resources, equipment and supplies, laboratory information management system and biorisk management.
Official documents, reference or technical manuals and other necessary documents were provided during the meeting to substantiate responses to different components of the Laboratory Assessment Tool (LAT)
This Lab System assessment gave opportunity to key stakeholders to brainstorm along the numerous points of the questionnaire, a critical exercise before updating the National Strategic Plan for Health Laboratories (2013-2020).
Dr Phonepadith Xangxayarath, Director of NCLE who chaired this workshop suggested that the preliminary results of the assessment could be presented during the National Laboratory Network meeting scheduled in Luang Prabang on February 3-4, 2021.