Cambodia
July 27, 2022
Views: 835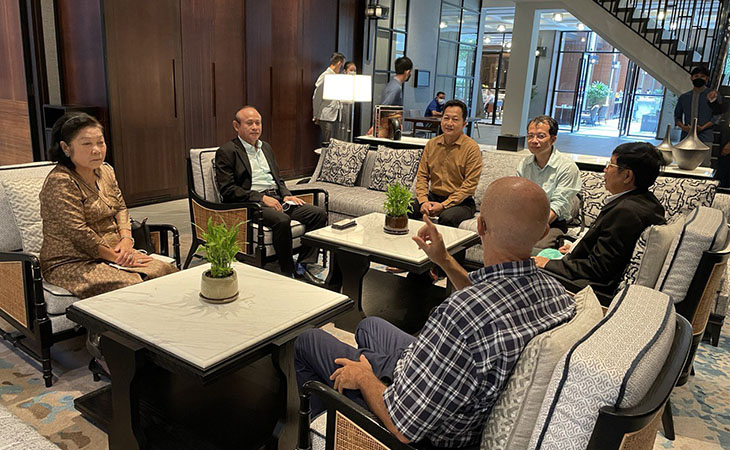 The second meeting of the working group for the animal health sector was held in Phnom Penh, Cambodia, and brought together key stakeholders to advance in the process of drafting a Laboratory National Plan.
Dr. Sorn San, Deputy Director General of the GDAHP, opened the meeting and H.E. Dr. Hor Malin, Secretary of State at MAFF, who is actively involved in this component of SEALAB project, stated that the objective of the working group was to discuss how to transform the NAHPRI priorities into a Laboratory National Plan that will guide the activities and investments that are necessary for achieving medium-term outcomes and impact. She pointed out that the development of a National Plan will be a complex process and would not be easy, beginning with discussions and commitment to action and impact.  She reminded the meeting that this plan will be a key reference document for developing the veterinary laboratory network in Cambodia, essential to conducting an effective surveillance of potential zoonotic emerging diseases.
The agenda of the working group was to identify key priorities to set up provincial veterinary laboratories and to update the type of GIZ support for designing the Laboratory National Plan.
Dr. Tum Sothyra, Director of NAHPRI, presented the on-going development of the provincial veterinary laboratories network stating that this network did exist during the Avian Influenza response plan but had disappeared when the funding stopped. The five provinces have been selected, the plan for premises have been completed and construction will start shortly. During the meeting it was emphazide that it was critical to concretize priorities for testing, to guide operational planning and sustainable resource allocation.
Dr. Hung Prahors presented in detail the support from GIZ focusing on providing assistance of an external expert to write the Laboratory National Plan and organize several workshops to ensure the active participation of all stakeholders involved in the process.
After discussion, the participants in the meeting agreed on the following key points summarized by H.E. Dr. Hor Malin in her closing speech:
The initial document to be validated at the GDAHP must be simple, clear and operational and that it was not relevant to prepare a document outlining the 45-page draft issued ten years ago by OIE.
All participants are required to provide external consultant names to accelerate recruitment process by GIZ.
The SEALAB project, through the partner IQLS, will contract 2-3 people from GDAHP to work in collaboration with the external consultant for providing the required documents, to be informed on the legislation and to ensure ownership by animal health authorities.
The final draft of the document should be issued in December 2022