Lao PDR
September 3, 2021
Views: 543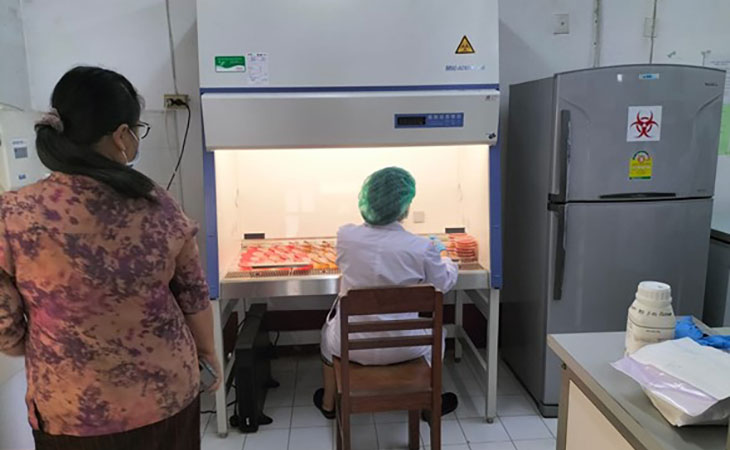 On July 22nd a Veterinary Laboratory Assessment was carried out at the Provincial Livestock & Fisheries section of Luang Prabang Veterinary Laboratory, using the veterinary system laboratory assessment tool (VS-LAT) developed by IQLS. The VS-LAT was also approved by DFAT to be used for the SEALAB project and was translated into Lao language.
This evaluation was organized to complete the Luang Prabang Veterinary Laboratory assessment, before the Savannakhet veterinary assessment, in order to further finalize the SEALAB Action Plan which will be submitted to the National Center for Laboratory and Epidemiology (NCLE) and the National Animal Health Laboratory (NAHL) for endorsement before kick-off.
The following participants were present during the assessment:
Mrs. Kesone Kounlaxay, Head of Luang Prabang Provincial Veterinary Laboratory
Mrs. Somphaivanh Chanthavong, Head of NAHL Laboratory
Dr. Benoit Chevalier, Country Representative of the Mérieux foundation Lao PDR
Mr. Yves-Sonevilay Khamvongsa, Laboratory Technician for the Merieux Foundation Lao PDR
Dr. Bounlom Douangngeun, Vet FAO expert was also on site, training the laboratory staff in microbiological techniques.
After introducing all the participants, Dr. Benoit Chevalier presented the objective of the mission and handed over to Mr. Yves-Sonevilay Khamvongsa to present the VS-LAT, in the Lao language.
Mr. Yves-Sonevilay Khamvongsa then completed the different steps of the assessment of the Veterinary Laboratory using the LAT spreadsheet and documents provided by the Veterinary Laboratory team.
After the assessment, a visit to the laboratory was organised and it was possible to see that SOPs and numerous pieces of equipment (BSC, molecular biology equipment, media culture, autoclaves) and that an update on scientific knowledge was needed. The staff is sufficient in number and particularly motivated in the creation of a ONE HEALTH surveillance network. The setting up of a computerised laboratory management system should be supported.
Mrs. Kesone Kounlaxay, Head of Luang Prabang Provincial Veterinary Laboratory, participated in the closing day and expressed her thanks to the SEALAB team for having chosen Luang Prabang Veterinary Laboratory as a targeted province aiming at improving QMS and LIMS to enable to reach national standards and ISO 17025 in the future.