Myanmar
July 1, 2022
Views: 369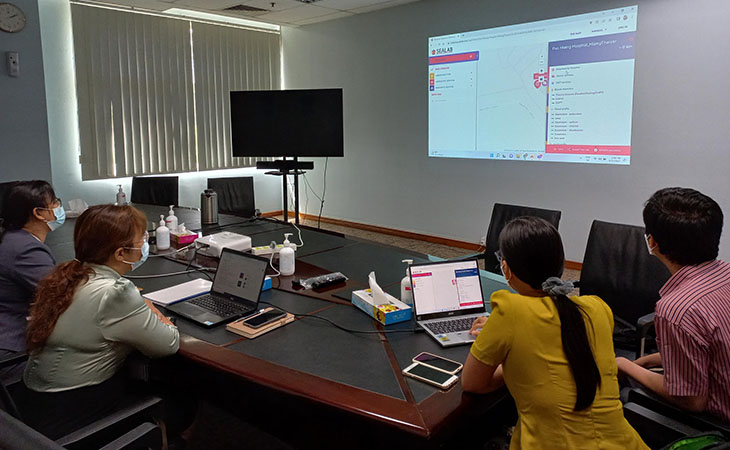 The Merieux Foundation's SEALAB team in Myanmar have collected data on laboratory diagnostic capacities in Yangon and Mandalay from August 2021 to December 2021. By the end of 2021 146 laboratories, including other smaller labs (116 labs in Yangon and 30 Labs in Mandalay), were mapped on an open-source mapping platform called Gogocarto.
A complex and long process
The first step was to create a standardized questionnaire using the reference of National Health Laboratory (NHL) requisition form to collect relevant data from each laboratory.
The next step was to select an opensource web application for data entry. Many applications were tested including KoBo toolbox and Epicollect5. Epicollect5 was better suited for the SEALAB project with its free and easy-to-use mobile data collection platform and its mapping tool is more user-friendly. However it didn't not allow a public access and the functionality and design did not correspond to the interactive mapping development requirements.
For this reason, after analyzing the functionalities of Gogocarto, Google Mymap and Umap, and in collaboration with the Mérieux Foundation team in Lyon, it was decided to use the Gogocarto mapping platform. With Gogocarto it was possible to customize the categories filter and show details of the mapping points, search mapping points by name, categories and location nameand save favorite mapping points. The interface was easy to use with a lightweight design. More importantly platform a progressive web application (PWA) is available for desktop and mobile so users can access the platform directly. The data from Epicollect5 was cleaned, extracted, and then uploaded to the Gogocarto mapping platform.
The SEALAB team in Myanmar have created a user manual with instructions on how to use the mapping platform called the Myanmar Diagnostic Laboratory Mapping (MMdxLab).