Cambodia
July 14, 2022
Views: 312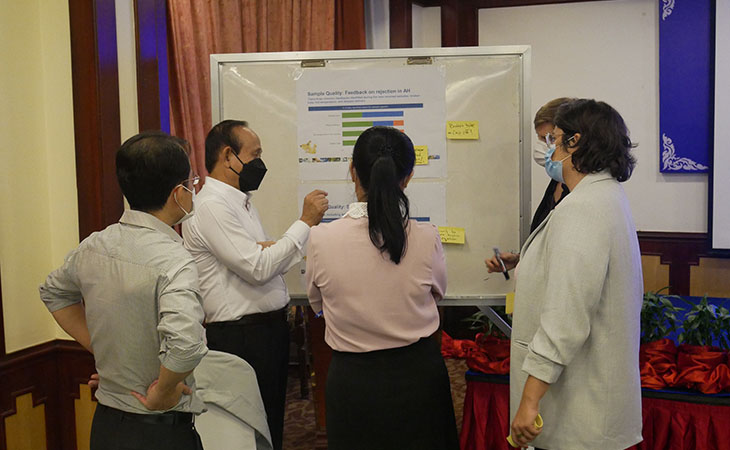 The Merieux Foundation in Cambodia organized a workshop on July 12, 2022, bringing together key stakeholders to brainstorm on the structure of the pilot phase for a sustainable National Transportation System of specimens (NTS).
Dr. Mardy Sek, the Merieux FoundationCountry Representative in Cambodia, presented the SEALAB project and empahized the importance of the collaboration with BMLS/MOH and GDAHP/MAFF, and actively working with CHAI to record discussions. Dr. Sorn San, Deputy Director of GDAHP, talked about a mandatory One Health approach with 75% of emerging diseases of zoonotic origin and the challenging issue of transporting samples due to lack of capacity at the provincial level. Dr Sokunna, Deputy Director of DHS repeated that transportation should not affect the quality of specimens and that special attention must be paid to minimize the risk of contamination by a spillover. To finish Dr Hok Kim Cheng, DG of Director General for Health at the MOH, concluded that a safe and efficient transportation system is part of the QMS and required for Cambodia to cope with IHR, especially by making sure that surveillance systems and laboratories can detect potential threats.
A questionnaire was developed in 2021 to assess the flow of specimens within the country and the quality of samples received by referred laboratories. Due to the travelling restrictions at this time, the questionnaire was self-administered by lab managers from 30 laboratories from the human sector and 7 laboratories (operational or not) from the veterinary sector.
The data was analyzed with the support of Mrs. Giselle Hadley, CHAI expert for DNO (Diagnostic Network Optimization) and finding are unexpected later. For this reason the initial work of the discussion groups created for this workshop was to analyze the data in order to validate or to amend the interpretation.
The discussion groups worked on propositions to ensure the quality of specimens transported and received with a goal to improve cost and efficiency. Suggestions from participants were compiled and presented to the participants. The next step is to organize meetings with BMLS, NAHPRI and GDAHP to finalize the design of the 3-month pilot phase to be conducted in Battambang, Kampong Cham and Takeo provinces. A kick off meeting involving lab managers of hospital laboratories in these province will be scheduled for mid-August and the should start to be operational by early September 2022.
Download the presentation on the survey on Biological Specimen Transportation System in Human and Animal Health Sector