Cambodia
July 22, 2022
Views: 349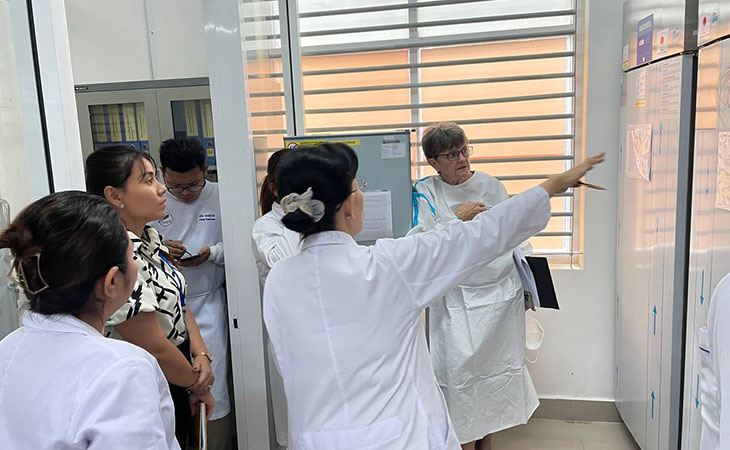 Two NRL trainers recently spent two weeks from at the end of June and the beginning of July in Cambodia as part of the SEALAB project, visiting the microbiology laboratories at Kampong Cham and Battambang Hospitals. The objectives of the trip were to review each laboratory's documents, procedures and processes, and to provide support to the staff to improve these.
The trip was very successful and an excellent opportunity, not only to meet the hospital directors and the laboratory trainees in person after a year of virtual meetings, but also to present the trainees with their certificates of attendance for the first 12 months of training.
The first activity at the laboratories was to perform an assessment using a vertical assessment checklist based on those used by accreditation bodies. The staff were all involved in answering the assessors' questions and showed a good understanding of their activities and commitment to improvement.
In general, the assessments was very successful. The processes which were in place were good, with most identified gaps arising from a lack of knowledge. Both laboratories were very clean and well organized, with safe, efficient workflows, although security was an issue for one work area at one of the laboratories.
Following the assessments, the trainers provided support to each laboratory to develop an action plan to address the non-conformances, with priorities based on risk clearly identified. Additional training and coaching were also provided on activities related to the findings, for example qualification, validation and competencies. One session was dedicated to an overview of the process for applying for, and achieving, accreditation to ISO 15189.