Lao PDR
August 1, 2022
Views: 447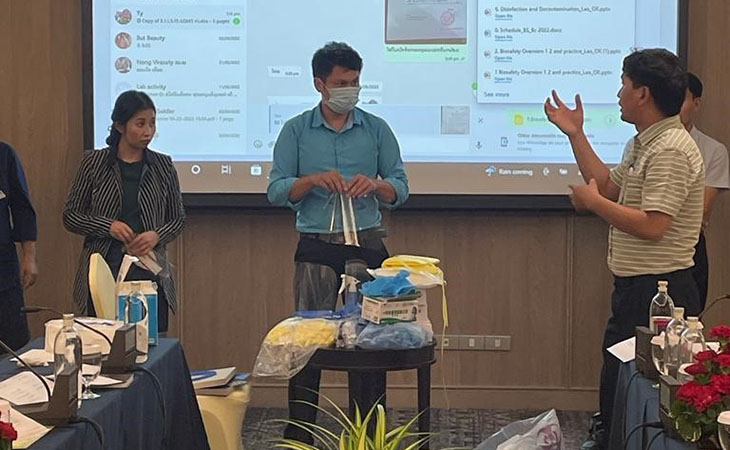 A 'One Health' workshop on biosafety and biosecurity was held from June, 21-23 2022 in Vientiane. Dr. Phonepadith Xangsayarath, Director of the National Center for Laboratory and Epidemiology (NCLE) chaired the workshop and talked about the Lao National Biosafety and Biosecurity Regulations.
Several events held in Laos have aimed to improve biosafety and biosecurity for laboratories and hospitals to protect both health workers and patients from occupational hazards associated with the handling of hazardous laboratory materials. The regular update of theoretical and practical trainings is particularly critical because of the turnover of lab technicians, due to re-assignment or recruitment of supplementary lab staff.
JEE scores captured a number of general trends in relation to biological security capacity levels in the region have demonstrated a limited capacity for biosafety and biosecurity training and practices in Lao PDR. This has been confirmed by the results of the quiz before the workshop.  Additionally, there is a lack of regular coordination between the human health sector and the animal health and other relevant sectors on biosafety and biosecurity programs and activities.
The workshop, attended by delegates from NCLE, NAHL and the SEALAB participating hospitals has initiated an opportunity for knowledge and information sharing between lab professionals from the human health sector and veterinary sector on laboratory quality, biosafety and bio risk management in the country. This 3-day workshop included simulation exercises that led to the exploration of theoretical and practical aspects and facilitated discussions and exchanges of information. It helped to identify priority biosafety gaps and challenges, to promote animal and human health interaction in biosafety and health security measures, to discuss key activities and strategies to promote biosafety and quality laboratory services.
Many organizations provide biosafety trainings. It was acknowledged that delivering supplementary training and organizing workshops would be beneficial for reviewing what has been carried out in previous years and as well as the development of a combined effect rather than duplicating effort to reinforce biosafety and biosecurity. Earlier identification of needs and topics of interest from participating labs would provide more valuable outputs than delivering standard curriculum.