Cambodia and Lao PDR
October 11, 2022
Views: 313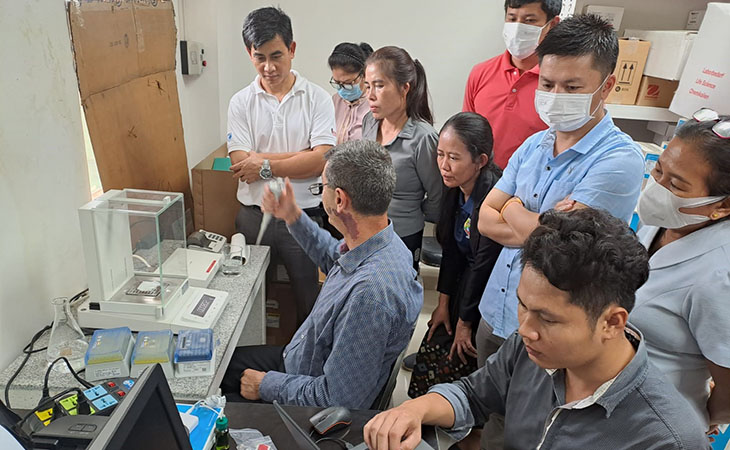 The extreme sensitivity of in vitro amplification assays such as Polymerase Chain Reaction (PCR) requires thorough and robust laboratory practices. For that reason, the IQLS provided training for veterinary lab technicians at the NAHL in Vientiane from August 22 to 26, 2022 and at the NAHPRI in Phnom Penh, from September 12 to 16, 2022.
The training sessions were conducted by Dr. Arsen Zakaryan with the collaboration of Dr. Chattouphone Keokhamphet in Lao PDR and Vivian Fensham in Cambodia.
The objective of the training was to review the theoretical and practical PCR testing techniques as the key methods enabling direct and rapid detection of small quantities of pathogens in different types of samples. It is an essential technique to carry out diagnosis, surveillance, control and prevention of infectious emerging diseases.
The theoretical training covered:
Introduction to molecular biology
Principles of PCR tests: nucleic acids extraction, amplification, and detection
Interpretation of PCR tests results
Molecular biology technological advances applied in diagnostics
PCR assay design
QA and QC
Validation and verification of molecular biology assay
Organization of PCR labs
Tips, troubleshooting and recommendations on PCR
DNA sequencing
Exercise on premiers-probe and PCR assay design
The practical training focused on endemic and emerging diseases in each country according to the directors of the NAHL and NAHPRI.
In Lao PDR the trainees performed PCR to detect Newcastle Disease, Duck Viral Hepatitis, African Swine Fever, Porcine circovirus type 2, Lumpy Skin Disease, Foot-and-Mouth Disease and Mycoplasma mycoides. In Cambodia the training was dedicated to emerging diseases in the region, such as lumpy skin disease, porcine epidemic diarrhea, ovine rinderpest, and African Horse Sickness.
The reagents and consumables were provided to both laboratories in larger amounts than needed for the training to allow further testing in the next months.
In addition, each participant received a booklet of the translated to Lao/Khmer training materials and a USB flash drive with electronic versions of all materials and supplementary standard documents.