Cambodia
February 3, 2022
Views: 996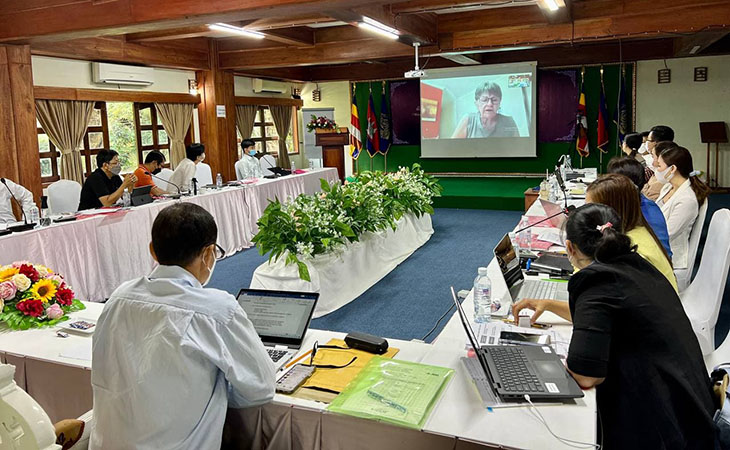 The Mérieux Foundation organized a workshop in Kep on January 19, 2022 on Quality Management System (QMS) Topic 3, the management of on-conformances and root cause analyses (RCA) for problem solving.
Vee Armstrong and Innocent Mupunga presented an online training course with the support of Dr. Sau Sokunna, director of BMLS and Dr. Mardy Sek, Mérieux Foundation country representative, and assisted by facilitators Ly Phanny and Yann Sokcheak, the SEALAB Technologists on Site (TOS). This workshop has demonstrated, once again, that NRL has become an expert in conducting interactive online training courses using the appropriate tools.
This workshop brought together three key lab professionals, identified as Quality Referents, from each laboratory participating in the SEALAB project. At the end of the workshop the participants had knowledge on critical definitions, identification, recording, root cause analysis and resolving non-conformances in their laboratory.
This face-to-face workshop gave the opportunity to each laboratory manager to give a presentation to their colleagues on the history of the laboratory, organization and services, followed by a review of QMS implementation and various supports provided in recent years. Each laboratory had to make a rapid SWOT analysis on QMS implementation to illustrate the benefits acquired and expected from the support provided by the SEALAB project.
Similar to other training courses conducted by NRL, this workshop will be completed by individual mentoring sessions planned in February and March 2022 to ensure that all the Quality Referents have effectively improved their understanding of the requirements for identifying, reporting and classifying nonconformities, understanding RCA tools and how to apply them, updating SOPs to include improvements, classification, RCA etc.
As part of the SEALAB action plan the NRL is actively delivering interactive training courses on Quality Management System (QMS).