Cambodia
August 18, 2020
Views: 345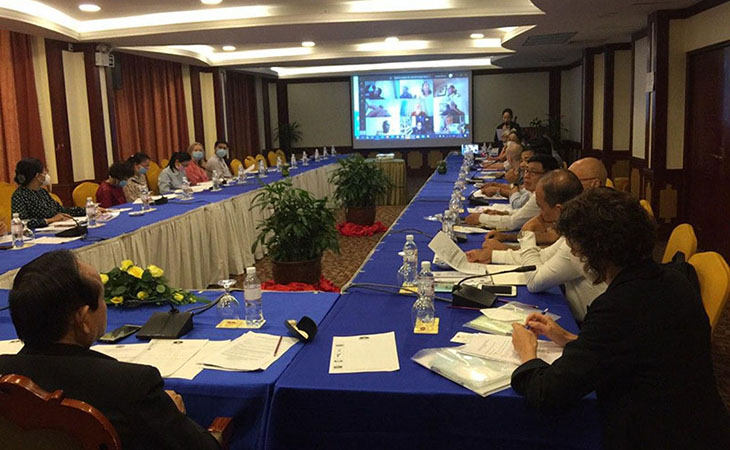 SEALAB, a project launched to strengthen laboratory networks in Southeast Asia with funding from the Australian Department of Foreign Affairs and Trade (DFAT), was initiated in Cambodia during the first steering committee meeting held on August 7, 2020 in Phnom Penh.
This first meeting was an opportunity to introduce the different experts and stakeholders of the project and to continue discussions on the defined strategies for the implementation of SEALAB in Cambodia.
After a welcoming ceremony with speeches from Dr Hok Kim Cheng, Director General for Health of the Ministry of Health of Cambodia and Tan Phannara, Director General of the Animal Production and Health Division of the Ministry of Agriculture, Forestry and Fisheries of Cambodia, the project partners, Mérieux Foundation, IQLS (Integrated Quality Laboratory Service) and NRL of Australia presented their organization and their role within SEALAB. A session of discussions and questions was then organized on the project strategy.
Participants included representatives of institutions from the Cambodian Ministries of Health and Agriculture, Forestry and Fisheries, such as:
University of Health Sciences (UHS)
Council for the Development of Cambodia (CDC)
Department of International Cooperation (DIC)
Bureau of Medical Laboratory Services (BMLS)
Department of Hospital Science DHS
Defense Threat Reduction Agency – Biological threat reduction program (DTRA-BTRP)
Food and Agriculture Organization Cambodia (FAO Cambodia)
Representatives from WHO (World Health Organization), NAMRU-2 (Naval Medical Research Unit Two), Sihanouk Hospital Center of HOPE, Diagnostic Microbiology Developpment Program  (DMDP), US CDC (Center for Disease Control and Prevention), Korean International Cooperation Agency (KOICA), Population Service International and the Australian Embassy in Cambodia were also among the participants.
The SEALAB project aims to strengthen national health systems in Cambodia, Laos and Myanmar in order to increase their capacity to respond to infectious diseases that potentially pose epidemic and zoonotic risks. The project is made possible by funding from the Australian Department of Foreign Affairs and Trade (DFAT).