Cambodia & Lao PDR
June 26, 2023
Views: 424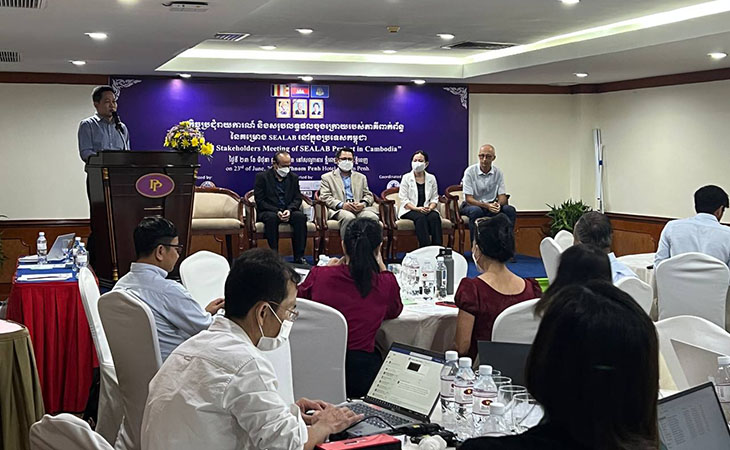 The SEALAB project is now completed. The final national stakeholders meeting were held on April 6, 2023 in Lao PDR and on June 23, 2023 in Cambodia. Both meetings gave the opportunity to bring together key stakeholders from human health and animal health authorities, international organizations, and NGOs involved in laboratory and surveillance strengthening.
The objective of the final meeting was to provide a summary of activities conducted by the consortium led by the Merieux Foundation and give details of the main outputs and particularly to show the outcomes and changes.
In Cambodia, after a short presentation by the Head of Project on the regional approach of the SEALAB project, Dr. Sek Mardy, Project Manager in Cambodia, talked about the main activities and outputs undertaken by the program in a complex context of traveling and meeting restrictions. He showed how the Merieux Foundation had overcome difficulties thanks to its long-term presence in Cambodia (2001) and availability of a team to assist partners. A further presentation, offered proof of the outcomes' sustainability for each component of the SEALAB program. The impact of the SEALAB project on strengthening laboratories was explained from the point of view of lab professionals thanks to the presentation given by Dr. Chiek Sivhour, Deputy Director of the laboratory of Battambang Referral Hospital.
H.E. Dr. Hor Malin, Secretary of State of the MAAF in Cambodia gave the key closing remarks emphasizing that it was the first time for animal health authorities to be a partner in a project conducted with the Mérieux Foundation and that it was a fruitful experience to work with an organization clearly oriented to field outputs. She also talked about the importance of the finalization of the strategy for NAHPRI written in close collaboration with experts and the GDAHP team, to meet effectively the needs and vision of the veterinary laboratory system. She said that now the One Health approach is mandatory, not only to combine veterinary and human health activities, but to effectively work together as recommended by the newly set up One Health Committee.