Lao PDR
June 22, 2021
Views: 597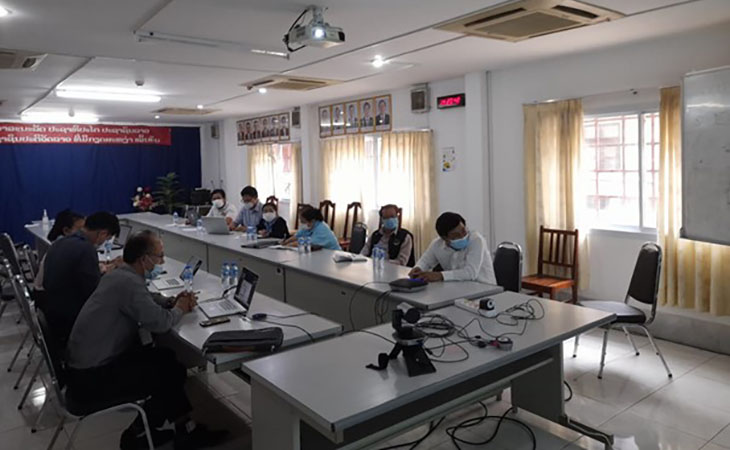 On June 4, 2021, the members of the SEALAB project presented an draft action plan to the National Center for Laboratory and Epidemiology (NCLE).
Based on previous Lab Assessment results for human health, the draft action plan introduces the main activities and a framework to be implemented, with a specific plan of action to be established among all stakeholders.
After welcoming words from Dr. Phonepadith Xangxayarath, director of the NCLE of the Ministry of Health of Lao PDR, the meeting highlighted the importance of the draft action plan, detailing its main activities and timeline.
Mr. Thenkham Haraixay, from the Mérieux Foundation and head of the SEALAB project in Lao PDR, presented a short orientation on the SEALAB project. Several points were addressed as part of the draft action plan development:
The president has delegated to Dr. Noi with support of Dr. Thongchanh to urgently create a working group, with all stakeholders involved in the SEALAB project such as NCLE, Mahosot and three targeted provincial laboratories, to discuss activities to be implemented based on the assessment findings;
Based on the existing EQA guideline, the national standards before moving toward to ISO 15189 must be updated and scaled up;
LIMS software which is to be used in the laboratory network needs to be translated in Lao.
The scheduled date for conducting HH Data Management Assessment has been set on June 9, 2021 at 2 pm (local time). NCLE decided to assign Dr. Souphatsone and Mr. Khambai as key persons to be responsible.
SEALAB DM tool has been loaned to Mahosot and NCLE.
Thongchanh, from the Mérieux Foundation will be based at NCLE, sharing the same office as Dr. Noi.