Cambodia
August 10, 2022
Views: 308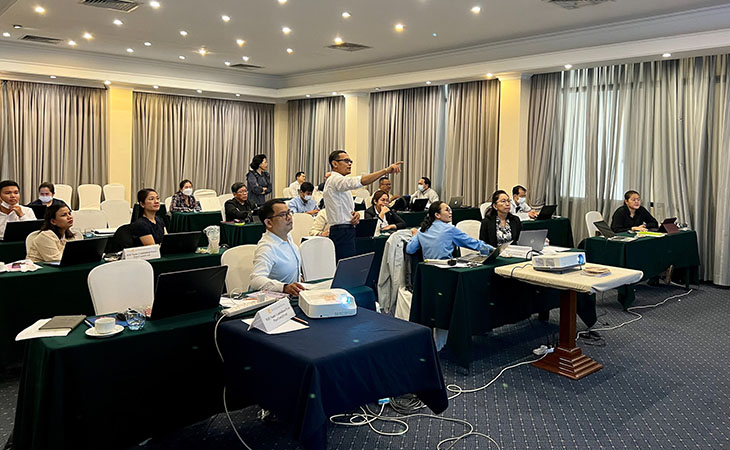 The in-service training component is one of the key elements of the SEALAB project involving lab technicians from five selected hospitals from various units of the medical laboratories.
A list of important topics were submitted to all laboratories to be available according to the priorities of each lab. Twelve areas were clearly identified as a frequent cause of concern. External experts drafted training modules which were reviewed and improved during the Training of Trainers (TOT) course. This collaborative approach of adapting the training tools was to ensure ownership by the national trainers responsible for delivering training to lab staff in each lab participating in the SEALAB project. This TOT and improvement of modules was completed in February 2022.
Before starting the training program the BMLS requested a supplementary analysis of all training modules in collaboration with experienced lab professionals to formally validate the curriculum. This additional phase, which was not included in the action-plan, and was officially endorsed in October 2021, significantly delayed the implementation of the program. However it was important to guarantee the availability of modules for other projects in a context where many organizations had added a component on laboratory strengthening to their programs.
The BMLS completed the work at the end of June 2022 with the group of reviewer making minor changes to the presentation and included supplementary slides and annexes to complete the modules.
The Mérieux Foundation organized a workshop on July 15, 2022 to formalize the validation by BMLS of the training materials for the SEALAB curriculum. The workshop was also opportunity to present the finalized modules to the heads of the five laboratories participating in the SEALAB project and to lab professionals involved in the review.
The main discussion focused on scheduling and logistics to ensure the delivery of all the training on the 5 sites before the end of 2022. It was also decided to to create four manuals for the modules on the following subjects: hematology and ABO, microbiology, biochemistry and preventive maintenance.
The next step will be to work closely with the BMLS to define a sustainable knowledge transfer platform to ensure visibility and availability of in-service training modules for other programs aiming to develop lab technicians skills in Cambodia.